Rehab Receives National Quality Award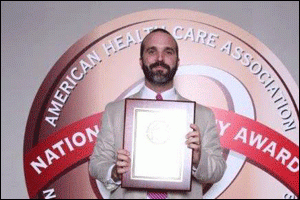 In early October, Smithfield Manor Nursing and Rehab received the Bronze Commitment to Quality Award. This award was given in recognition for dedication to improving the lives of residents through 
quality care.  It was given through the National Quality Award Program, presented by the American Health Care Association and National Center for Assisted Living in San Antonio, Texas.
The program has three levels: Bronze, Silver, and Gold.  Centers begin the quality improvement process at the Bronze level, where they develop vision and mission statements and an assessment of customers' expectations.  Applicants to the Bronze level, must also demonstrate their ability to implement a performance improvement system.  As a Bronze recipient, Smithfield Manor Nursing and Rehab will move forward in developing and achieving performance levels that meet the criteria required for the Silver – Achievement in Quality Award, and then ultimately the Gold level.
Nathan Arnn told WTSB News,  "It is a great honor to be recognized with a National Quality Award. Improving the lives of residents and families we care for every day is what brings us joy. This award symbolizes the dedication and commitment we have to the quality journey."
For more information about Smithfield Manor Nursing and Rehab, contact Nat
AN UNVEILING OF THE MEMORIAL PORTRAIT OF DAVID F. ARNN, SR.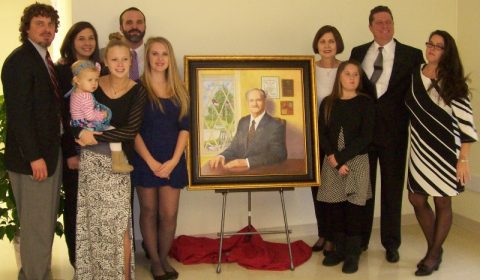 An unveiling of the memorial portrait of David F. Arnn, Sr., was held at Smithfield Manor on January 15, 2015.  Mr. Arnn was the Administrator and President of Smithfield Manor.  Janet Bond DeWitt of Siler City, North Carolina, was the portraitist.
Pictured with Ms. Carol Arnn above are sons, left to right, Jonathan, Nathan (Alison) and David Jr. (Robin Halley).  Grandchildren Jessica, Audrey, Julie and Emma Kate Arnn performed the unveiling of the portrait.  Mr. Arnn's life was celebrated for all the faithfulness and kindness he exemplified towards his residents, staff, family and friends.  He was the "heart" of Smithfield Manor.