October Updates
Good afternoon,
We are pleased to announce that some welcome changes have come to long-term care facilities through CMS and CDC directives: 
All entrance doors will be open for your use during business hours.
We no longer require you to screen when you enter our facility.
Continue to wear masks and use hand sanitizer to help us keep everyone safe.
If you are experiencing COVID symptoms, or have fever, we require you to refrain from entering our facility until your symptoms improve.    
QSO-20-39-NH Revised (cms.gov)
Ref: QSO-20-39-NH                                                                                                                                        
REVISED 09/23/2022
Core Principles of COVID-19 Infection Prevention
• Visitors who have a positive viral test for COVID-19, symptoms of COVID-19, or currently meet the criteria for quarantine, should not enter the facility.
• Hand hygiene (use of alcohol-based hand rub is preferred)
• Face covering or mask (covering mouth and nose) and physical distancing at least six feet between people, in accordance with CDC guidance
• Instructional signage throughout the facility and proper visitor education on COVID19 signs and symptoms, infection control precautions, other applicable facility practices (e.g., use of face covering or mask, specified entries, exits and routes to designated areas, hand hygiene)
• Cleaning and disinfecting high-frequency touched surfaces in the facility often, and designated visitation areas after each visit
• Appropriate staff use of Personal Protective Equipment (PPE)
Thank you for your cooperation in this important task we all have of protecting your loved ones. 
Katie Stevens, Administrator
Updated 10/5/2022
We will no longer be reporting weekly covid test results.  We will however notify via this website when we have a Resident or Staff positive.
Thank you!  
10/3/2022
No new positive cases of covid during this round of testing.  Please continue to use caution when vising the facility and refrain from visiting if you are experiencing any covid related symptoms.  Proper hand hygiene and masks are still mandatory while visiting the facility.  Please call with any questions or concerns.  Thank you!
Administration
-Updated10/3/2022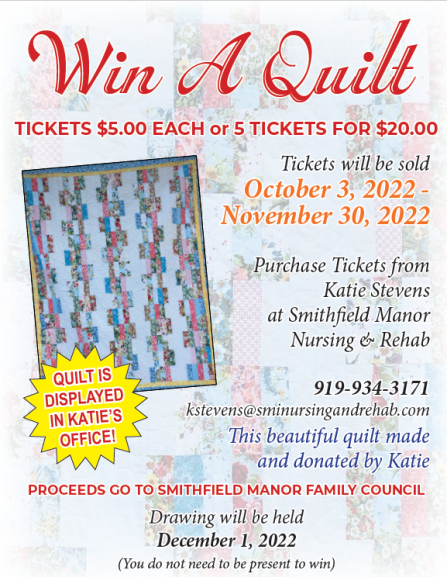 Recently the CDC and CMS have updated their COVID-19 policies on visitation and testing.  We are aware of these updates and are working diligently to comply by making sure we understand and follow their guidelines.  Please be patient as we learn from our National and State organizations how these updates will impact our current practices.  As soon as we have our newly updated policies in place, we will share them with you.  As always, you are welcome to speak to me in person or by phone with any questions.
Katie Stevens
Administrator